Blue Haze Strain Overview
The Blue Haze strain is a deliciously fruity offering that combines two world-class parents. It is a Cannabis Cup-winning strain in its own right and is fairly potent. Therefore, novices should probably opt for something with a more moderate THC content. It is often used by MMJ patients seeking relief from anxiety and chronic pain.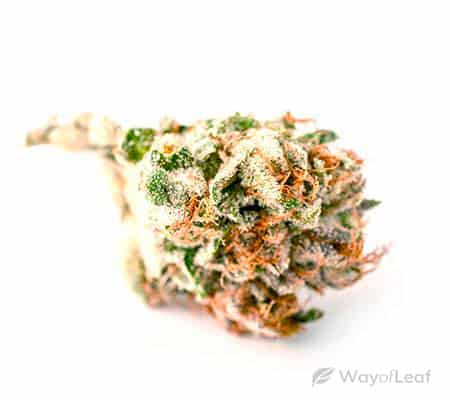 Flavors
Earthy
Fruity
Herb
Spicy
Sweet
Common usage
Anxiety
Chronic pain
Depression
Migraines
Muscle spasms
Stress
Effects
Calming
Energy
Euphoria
Focus
Happy
Laughing
Relaxation
Growing info
The Blue Haze strain grows well indoors or outdoors. Indoors, it has a flowering time of 8-10 weeks. Outdoors, it is ready for harvest towards the end of October.
As we've outlined before, there are never any guarantees when it comes to cannabis breeding. The assumption is that combining two great strains will definitely produce awesome offspring. The reality is very different. The thing is, we don't usually hear about a breeder's epic failures!
Fortunately, Blue Haze is what happens when things go right. With a Cannabis Cup-winning parent, this strain went on to win the accolade itself. Read on to learn more about it.
What Is the Blue Haze Strain?
The Blue Haze strain is a cross of Blueberry and Haze. The former won the High Times Cannabis Cup, while the latter is one of the most famous strains of all time. It is an indica-dominant strain, but its effects aren't precisely what one might think.
In general, indica strains result in utter relaxation, couch lock, and ultimately, sleep. However, the Blue Haze strain is a little different. It begins with a gentle cerebral high that makes you smile and eases away dark clouds. Many users report that their facial muscles relax to the point where it is difficult to avoid smiling. You might find yourself jumping from one joyful thought to the next. It is also likely that you'll feel sociable and chatty.
Blue Haze is highly relaxing but seldom leads to couch-lock for experienced cannabis users.
As the high develops, the initial burst of energy gives way to a greater sensation of relaxation. Some users admit that their limbs feel heavy, and they have an urge to sit down. However, Blue Haze seldom leads to couch-lock for experienced cannabis users. Instead, they are more likely to begin a creative project as their mind continues to operate at a high level.
That said, you might find that Blue Haze is best enjoyed in the evening as you unwind after another long day.
Aroma
If the Blue Haze buds are properly cured, you will certainly get a strong scent of blueberries. It is an extremely enticing scent that lures you in. You might also enjoy the hints of earthiness and additional sweetness that accentuate the pleasant odor of the fruit.
Flavor
In some cases, marijuana strains with a great aroma are something of a letdown when it comes to the taste. Fortunately, this isn't the case with Blue Haze. It offers a fantastic blend of fruit, sweetness, and spiciness. When you light a joint, you'll probably see thick smoke, but it is generally a smooth toke. The spicy and fruity aftertaste is also pleasant.
Appearance
This strain has spade-shaped buds and relatively large flowers. The yellowish-green leaves are covered with orange pistils, and near harvest time, sticky trichomes. Certain phenotypes have specks of blue and purple, which you can bring out by exposing the strain to colder than average temperatures. If you do this, make sure it is for a short period only.
Blue Haze Strain Grow Info
You have the option of growing Blue Haze indoors or outside. If you opt for outdoor cultivation, please note that it requires a warm climate. When you buy Blue Haze seeds, please note that it is a strain sensitive to sudden changes in temperature and humidity.
Indeed, it is generally classified as a cannabis strain best grown by people with experience. Outdoors, it is ready for harvest by the end of October and can provide up to 20 ounces per plant.
Blue Haze is easier to grow indoors as it is sensitive to changes in temperature and humidity.
Blue Haze is arguably best cultivated indoors because you have the chance to take control over environmental factors. It is a plant that grows short and bushy. However, it doesn't require as much trimming as similarly sized plants. Remember, you can increase the purple/blue coloring by 'shocking' your Blue Haze crop. However, we only recommend this when you have a lot of knowledge about how to cultivate cannabis.
When grown indoors, Blue Haze's flowering time is 8-10 weeks. It produces a yield of up to 22 ounces per square meter planted, though it is usually closer to 16 ounces.
THC Content – Highest Test
Blue Haze isn't a strain to trifle with, as it has a THC level of between 18% and 24%. On average, you can expect it to contain 21%.
CBD Content – Highest Test
Typically, the Blue Haze strain will have less than 0.6% CBD.
Medical Benefits of the Blue Haze Strain
If you are an MMJ patient, the mellow and uplifting high could help with stress or depression. Whether you're feeling down or are completely stressed out, a few tokes of Blue Haze could change your perception. According to most users, it doesn't take long for them to feel completely relaxed and chilled out.
You might also find that the potency of Blue Haze helps soothe chronic pain as a symptom of conditions such as fibromyalgia, arthritis, and back pain. It could also help ease the pain associated with migraines.
Although it helps you relax, Blue Haze won't necessarily help insomniacs get to sleep.
Possible Side Effects of the Blue Haze Strain
In general, the main side effects associated with Blue Haze are dry eyes and a dry mouth. Although some people use this strain to help with anxiety, it isn't necessarily the best option.
In rare cases, it can increase the level of anxiety you feel. If you overindulge, there is the possibility of experiencing paranoid thoughts. Therefore, it is always a good idea to use Blue Haze in moderation, regardless of your experience level.
Final Thoughts on the Blue Haze Strain
The Blue Haze strain is a combination of two classic cannabis strains. It provides a sweet, fruity, and smooth smoke. In general, it could help improve your mood and ease the pain associated with several medical issues.
Blue Haze seeds are relatively easy to find. However, we recommend only tackling it if you have some experience in growing cannabis, as it is a tricky plant to get the best out of.
Zach is the founder of HempCBDExchange.com. Amateur writer. Social media ninja. Travelaholic. Passionate about all things cannabis & hemp.